The Team
Once upon a dream.
Wilfred Tok, Founder
With over 25 years of experience in leading adventure rock climbing and mountaineering expeditions around the world, Wilfred is one of the pioneers in the East Malaysia and Singapore climbing scenes.

During one of his many expeditions, Wilfred envisioned a day when he could bring adventure mountaineering to Mt Kinabalu by introducing climbers to off-the-beaten-trail adventures.

Deeply inspired with an equally deep passion for climbing, Wilfred left a successful aeronautical career to pursue this dream.

Taking Mt Kinabalu to greater heights.
Quek I-Gek, Director/General Manager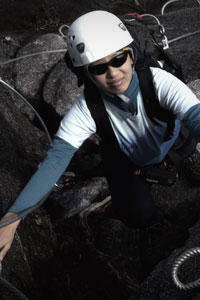 Ever since I-Gek climbed her first mountain – Mt Kinabalu – in 1996, her love for these magnificent creations grew to include exploring larger mountain ranges like the Himalayas and the European Alps.

This avid adventurer brings to Mountain Torq over 15 years of marketing and business consulting experience to help develop Mt Kinabalu into a true mountaineering centre.

Her dream is to one day embark on a global exploration from the wild mountains of Patagonia in the Southern Andes to the remote wilderness of North-East Siberia.